A Beginner's Guide to RTTY Contests.
Republished from RadCom, August 2003. Copyright RSGB. www.rsgb.org
By John Barber, GW4SKA, Phil Cooper, GU0SUP; and Dick Whittering, G3URA.

Since the advent of the use of the computer soundcard to decode digital signals there has been more activity on RTTY than ever before. One now hears more stations during a single day on RTTY than were normally heard in a week a few years ago. Much of this increase is due to the very effective, and free, MMTTY program, by Mako Mori. This in itself has brought thousands of people world-wide on to the mode to enjoy the casual, friendly world of RTTY. Many RTTY operators use RTTY contests simply as a way of increasing their DXCC totals, working towards a 'Worked All States' (WAS) or 'Worked All Zones' (WAZ) award, or picking up
new prefixes and many of them continue to use MMTTY to this end.

RTTY Contest Programs.
Whilst this is all very well, and can also give the 'novice' contester a flavour of what can be worked during an RTTY contest, MMTTY is not
designed as a contesting program. It therefore does not have the capabilities of a dedicated contest package such as, say, WriteLog (1) or RCKRtty (2). These programs can recognise incoming callsigns preceded by "DE", track your score, show needed calls, multipliers and duplicate contacts and do much more to help you maximise your score. While MMTTY will not always produce a contest log in the format specified in the rules (particularly if a 'Cabrillo' log is required), all specialised RTTY contesting programs, like the two mentioned, will produce the correct format needed when sending in your log. A 'Cabrillo' log, by the way, is a standardised log format in which all the information is in one file that includes the contest log, your name and address, callsign and comments. An alternative for producing logs is Cabrillo Tools by WT4I which will convert various files into the correct Cabrillo format for you. This type of log is now required in all RSGB HF contests and most RTTY contests. Most logs can be e-mailed to the contest address and will be acknowledged. Any comments you have about the contest can be included in the 'soapbox' section of the Cabrillo log, but not in your e-mail text, as this may only be seen by a 'robot' mail handler! Always send in your log, no matter how many or how few contacts you made. Your log, yes yours, with only 20 or so QSOs in it, is used to verify the points claimed by the other contestants whom you worked. "But with only 20 QSOs, I'll come last", I hear you say. I doubt it! While trying out some new software, Dick, G3URA, ended up working just 16 stations in one contest and when the results came out, there were at least five stations below him. Despite a 'low' score there is also the possibility that you may be the only G, M or 2E station to submit a log in any particular class, meaning you could end up with a certificate for being the top G in that
class. Before submitting your log, do read through it and make sure it looks OK. Ensure there are no obviously wrong calls or daft exchanges. Printing the log out and then looking it may help you spot anything untoward.
Before the Contest.
Entering a contest can be a bit daunting the first time. The following few paragraphs are aimed to help the beginner take the plunge and offer a few tips from both avid contesters and a contest manager. The first rule in any contest must be: "Read The Rules!" The rules for all
major RTTY contests can be found on the web (5), and are also published in the British Amateur Radio Teledata Group (BARTG) monthly magazine, Datacom, together with detailed operating tips for all the major contests. The rules will state date and time, the exchange required, where to send logs, and in which format they must be. The rules will say if there are different classes of entry, and a single band entry may suit you if you are restricted by time or aerial considerations.

Always keep a copy of the rules handy. Before the contest, set up some simple memory 'buffers' containing only the minimum information required for calling another station and exchanging the relevant information. It is also a good idea to add a couple of 'return' characters to the beginning and end of the exchange, as this can make your exchange stand out a little more. For a contest where the time also has to be exchanged, the buffers might look like this: "DE GW4SKA GW4SKA K" (Use this to answer a CQ. Never send his call and always send the 'DE', see below). "RGR UR 599 001 001 1254 1254 DE GW4SKA K" (meaning I have your message, this is mine for you). These will be fine in most conditions but be prepared to repeat the serial / time etc several times if copy is poor, like this: "001 001 001 TIME 1254 1254 1254 QSL? BK." Set up a separate buffer for this. There is no need to repeat the RST as it is always 599 no matter what the conditions!
During the Contest.
Never send any unnecessary information such as names, your rig, power or aerial details. Also, even if the station worked is a new country for you, never ask for his QSL information, as you can find this out after the contest. Remember that the serious contester will be aiming to make about two contacts every minute, so stick to the essential information only. Remember too, to call exactly on the other station's frequency and keep the 'AFC' and 'NET' controls turned off when answering a CQ. Think about your exchanges and watch what others are doing. Most of us know our own callsign so seeing it three times before we see your callsign just once, is a real 'no-no'. For example, sending "GU0SUP GU0SUP GU0SUP DE G3URA PSE K" will probably not get you that muchneeded GU multiplier! Know what the 'multipliers' are. Are they countries? Prefixes? Zones? This will be explained in the rules, which you will have read before the contest, right? Are there bonus points for working different continents? If you run a 'little pistol' station where anything outside Europe is a bonus, don't forget that the Canary Islands, EA8, counts as Africa, and Cyprus, 5B4 or ZC4, counts as Asia. Both are fairly 'local' and easily worked. Having a 'little pistol' station can have some advantages, as most of the time you will be in 'S&P' ('search and pounce') mode while the 'big guns' will sitting on one frequency calling CQ. You can pick and choose whom you work; they can't. Never forget that they want your call and will do their best to get you in their log. This is especially true if you have a regional locator in your callsign, such as GM or GI. If they are rare DX and have a huge pile-up, worry not. If it is a 48-hour contest wait 24 hours and call them on the second day, when they will be crying out for contacts and will want you in their log.
Top: Typical contest logging software screen: this is the RCKRtty program configured forthe BARTG Spring RTTY
contest.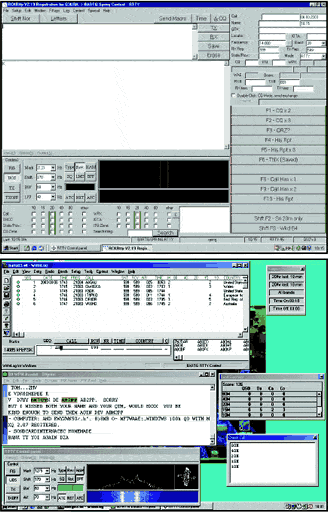 Bottom: Using the WriteLog program for an RTTY contest.
If you do have to wait patiently for your turn to work the DX, again, watch what is going on: there should be no need to ask for a repeat of his serial number, for example. In some contests, suchas the Australian ANARTS, points are based on distance worked and in these types of test it is far better to trawl the bands looking for DX rather thanjust work mainly European stations. Watch out for time limits on band changes or off times. These will be in the rules. If, for example, you are limited to two band changes in 10 minutes don't work that one multiplier on 10 metres if you can't hear any other stations, or you will then have to sit on a quiet band until the 10-minute time period has elapsed (however, if you just can't resist working that VP6 before returning to 20m, you can always use up the rest of the time with a 'comfort break'!) If you are keen to try CQing, even with your 'little pistol' station, think about doing so in the dying hours of the contest. Then, many of the big boys will start to search and pounce for those extra contacts that escaped them during the main part of the contest.
Intrested?
More information about RTTY contesting and the datamodes in general can be found by joining BARTG, from which several RTTY awards are available. There is also a popular RTTY reflector where you can ask questions, find QSL routes, and compare contest scores. Other helpful
information can be found on the 'RTTY Info' website (3), where there is an excellent RTTY tutorial for those wishing to learn more about the mode.
New RTTY operators will find contesting a very easy way to make a start on the mode without the need to type at furious speeds. Those with more experience will know that in any of the major contests held each year, they can find well over 1000 stations to work. Look at the contest calendar, read the rules, join in, but most of all, have fun! We look forward to seeing you on our screens and seeing your calls listed in the results. Oh, and one last bit of advice: Read the rules - again! ?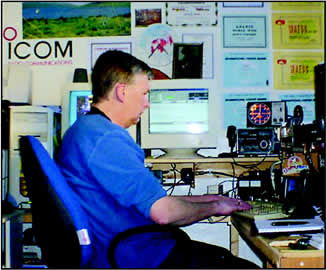 Co-author Phil Cooper, GU0SUP, operating RTTY from Guernsey.
W E B S E A R C H
(1) www.writelog.com
(2) www.rckrtty.de
(3) http://lists.contesting.com/mailman/listinfo/rtty


By John Barber, GW4SKA, 29 Brithdir Street, Cathays, Cardiff CF24 4LE.
E-mail: , Phil Cooper, GU0SUP; and Dick Whittering, G3URA.

Republished from RadCom, August 2003.
Copyright RSGB. www.rsgb.org